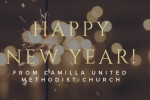 We pray that 2019 is an amazing year for you and your family, that your love may abound more and more in knowledge and depth of insight, so that you may be able to discern what is best and may be pure and blameless for the day of Christ, filled with the fruit of righteousness that comes through Jesus Christ- to the glory and praise of God. (Phil. 1:9-11)
Here are some verses to encourage you in the new year:
2 Corinthians 5:17
17 Therefore, if anyone is in Christ, the new creation has come:[a] The old has gone, the new is here!
Psalm 98:1
1 Sing to the Lord a new song,
for he has done marvelous things;
his right hand and his holy arm
have worked salvation for him.
Ephesians 4:22-24
22 You were taught, with regard to your former way of life, to put off your old self, which is being corrupted by its deceitful desires; 23 to be made new in the attitude of your minds;24 and to put on the new self, created to be like God in true righteousness and holiness.
1 Peter 1:3
3 Praise be to the God and Father of our Lord Jesus Christ! In his great mercy he has given us new birth into a living hope through the resurrection of Jesus Christ from the dead,
Lamentations 3:22-23
22 Because of the Lord's great love we are not consumed,
for his compassions never fail.
23 They are new every morning;
great is your faithfulness.
Romans 5:5
5 And hope does not put us to shame, because God's love has been poured out into our hearts through the Holy Spirit, who has been given to us.