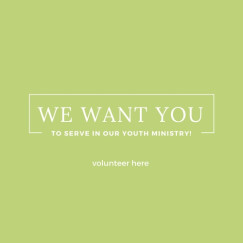 Our youth group at CUMC is growing and we need your help! We need volunteers to help serve in the following ways on Sunday nights:

Snack/Supper Servers
These volunteers provide the students with a light supper or heavy snack at 5:00 pm in the Social Hall. Paper products and utensils are provided by church. Volunteers are in charge of setup, prep, and cleanup. Here are some example meals:
-Tacos
-Pizza
-Spaghetti or Lasagna
-Subs and chips
-Breakfast for supper

MYF Volunteers
These volunteers would be at MYF services to assist youth ministry staff in setting up, engaging students, and helping manage behavior of the group. We would like for this person to serve the entire MYF service time from 5:00-6:30pm.

Sunday School
We know that some people have the gift of teaching others. It is always refreshing for students to hear a different voice from someone who has new things to say. We follow a yearly curriculum for our Sunday School classes so the Sunday School teacher can easily prepare for the week's lesson.

If you are interested in helping out in our youth ministry, please fill out the form below.